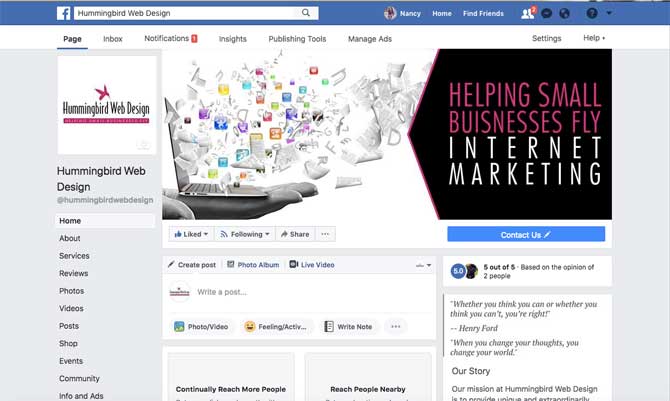 Ask any SEO company on the planet to list the five most important ways of reaching out to customers, and all of them will have social media near the top of the list. Specifically, they will talk about Facebook. With more than two billion members globally, it has outreach potential that dwarfs any other platform.
Most businesses have a Facebook page of some description, that gives an outline of their business activities and is on-brand, sporting their custom logo design prominently on the profile. For businesses that regularly create new content, or that use content marketing services in New York to help them to do so, posting and sharing on Facebook is a great way to raise the profile of the business, increase traffic and improve SEO.
However, as a platform that is ostensibly aimed at private individuals, Facebook has always struggled to truly understand its own strategy when it comes to business pages. In an attempt to differentiate them and improve usability, it has announced some format changes that will come into effect imminently. Be sure to check your Facebook page this week and definitely take the time to get help from your current webmaster or contact an SEO company for assistance. Your company's Facebook page is an extremely important aspect of your online presence.
New page templates
According to information from Facebook itself, it will be automatically updating all business pages on August 22. There are ten new templates available, and Facebook is sending out an automated notification to every business listing advising them of the template it will be using.
So for example an SEO company that operates in the service sector will transition from the standard template to the new services template. A charity's Facebook page will transition to the nonprofit template, and a cafe will be transition to the restaurants template.
Here is a full list of the new templates that Facebook is offering:
• Standard – this is the current default template, and mirrors your personal Facebook home page. If you like things as they are, you can stick with the standard template, but you will have to physically change it back after August 22, as Facebook will be actively changing business pages to something more specific.
• Services – aimed at businesses in the service sector with the design focused on helping people locate your services and to get in contact.
• Business – this template is for those who use Facebook to help manage their business. For example, it has areas where you can post job opportunities or special offers.
• Shopping – a template aimed at ecommerce sites, where they can showcase their products and provide easy ways to shop at a single click.
• Venues – here, the priority is on highlighting forthcoming events, opening hours and providing a platform for pictures and video highlights.
• Restaurants & Cafes – this template puts the focus on menus, opening hours and special offers or events. It also gives images a high priority.
• Movies – clearly, the main thing here is to indicate showtimes, forthcoming movies and easy access to reviews.
• Nonprofit – charities and nonprofits are given their own template where they can push fundraising efforts and that will make it easy for visitors to donate.
• Video page – pages that are focused more on video content than text or images have a specific template.
Choosing the right template for your business
It might sound like a small detail, but think again about the reach that Facebook has. Getting the homepage looking just right could make a huge difference, so it is worth sitting down with a professional SEO company to look at the different options when they become available.
Even more important, make sure you visit your homepage when Facebook triggers the automatic change, just to check how things look. If it really hasn't worked for you, be aware that you can change it back to normal, or choose a different template, by clicking on Settings. Select Edit Page and then Edit Template – from there, you can choose from any of the options we listed above.