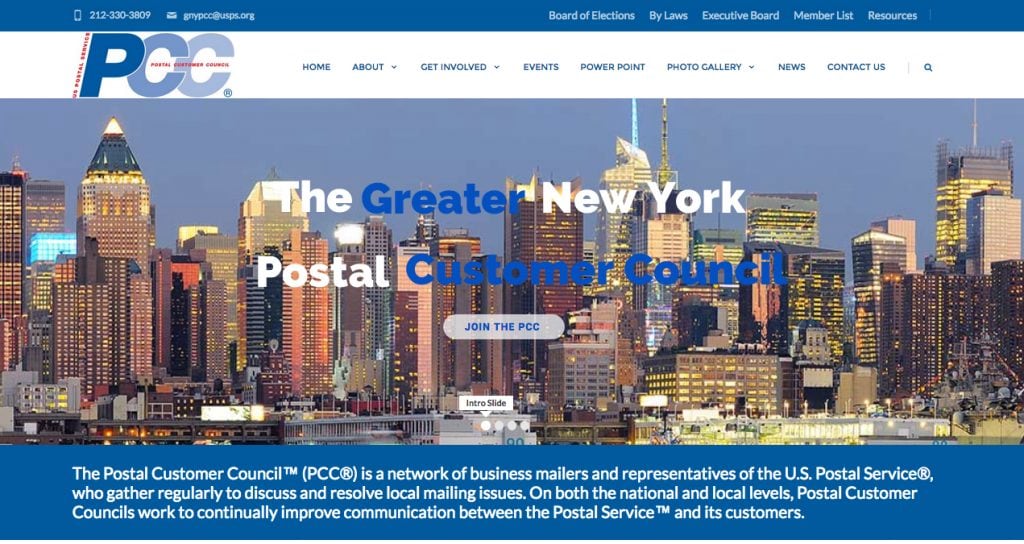 The Greater NY Postal Customer Council contacted Hummingbird Web Design for a re-design and build for their non profit organization's website.
The Postal Customer Council™ (PCC®) is a network of business mailers and representatives of the U.S. Postal Service®, who gather regularly to discuss and resolve local mailing issues. On both the national and local levels, Postal Customer Councils work to continually improve communication between the Postal Service™ and its customers.
Our first task was to re-organize and change the layout and navigation. Much of the important content was buried and was difficult for visitors to locate. Because the GNYPCC has many events throughout the year – all requiring registration, we developed many forms each specific to the event and chose a 3rd party platform – MailChimp to store all registration information in a database.  We also found a plugin that will bridge the WordPress website to the MailChimp account.
A full width WordPress template was chosen resulting in a clean, modern design. And a new photo gallery was created.
Here are some "before" screenshots of the old website:
Please visit their new website and give us a call if you're interested in any online marketing services!
Visit The Greater NY PCC Website, CLICK HERE