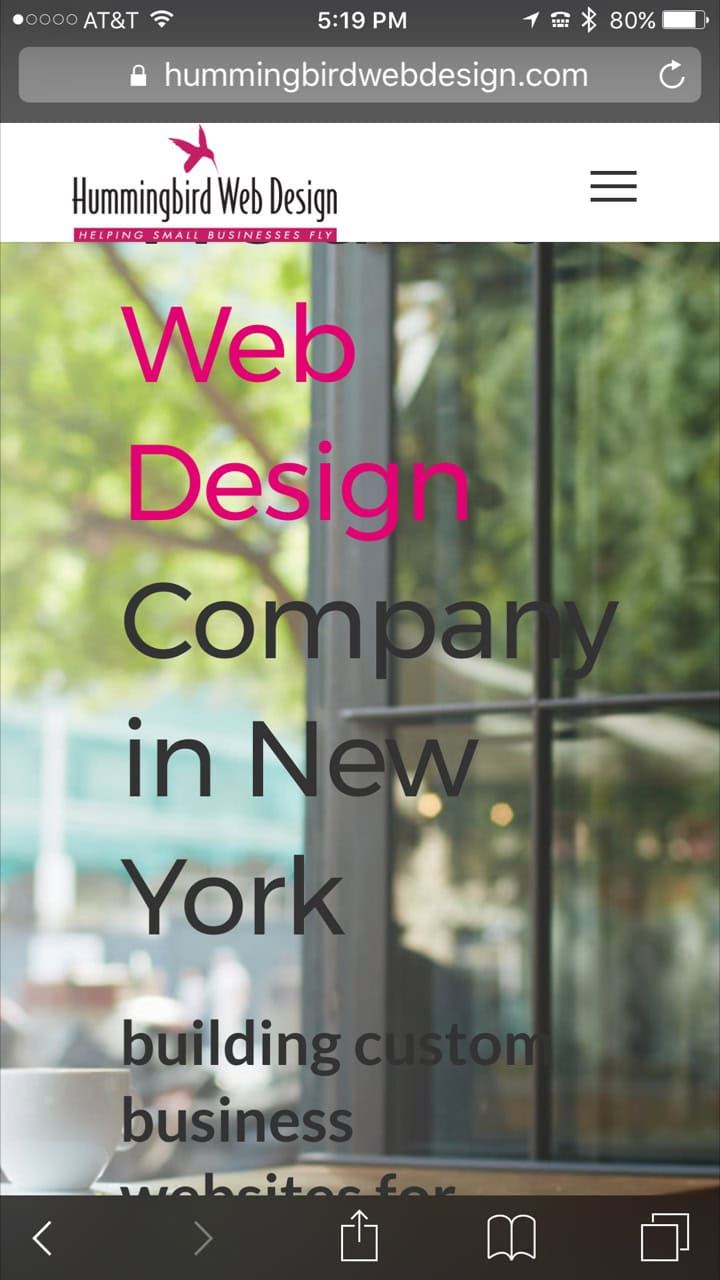 If you still think a hamburger menu is something to drool over at your nearest fast food joint, think again! Hummingbird Web Design has an eye for digital trends, and from our little web design company in Port Washington NY, we saw the hamburger menu storm back into web design – and we were ready and excited to use it on our clients' websites. Here we explore the history of the hamburger menu icon, and how it might – or might not – improve your website.
Navigation menus as we once knew…
Menus make websites easier to navigate, and a well-organized, methodical menu can do wonders for your visitor retention and return rates. Website menus remained relatively unchanged until recent years. We became familiar with the standard "about us, our products, contact us, downloads etc." options running across the top of the screen, and we knew that hovering or clicking on them would take us to a sub menu. So why did we need to change them?
A mobile revolution
Smartphones allow us to go about life with a mini computer in our pocket. There is still a place for laptops and PCs, but there is also an unmistakable migration to smartphones when it comes to how we access the web. Traditional menus largely do not translate well to phone screens – they are not responsive and require too much zooming and moving around to offer a user-friendly experience.
Enter the hamburger!
Hamburger menus have actually been around since the 1980s, designed by Norm Cox for the Xerox Star. He said of his design: "Its graphic design was meant to be very "road sign" simple, functionally memorable, and mimic the look of the resulting displayed menu list. With so few pixels to work with, it had to be very distinct, yet simple. I think we only had 16×16 pixels to render the image. (or possibly 13×13… can't remember exactly)."
The three-line design was resurrected for use on smartphone screens, which face a similar 'space issue' to the Xerox Star. It is widely accepted that Apple reintroduced the hamburger menu to the mainstream in its 2009 iOS voice memos update. Today it features on almost every app and mobile website, and is internationally recognized as an alternative to the traditional, bulky navigation menu.
Internationally recognized, but is it one-size-fits-all?
As wonderful as the hamburger menu is, it may not be for everyone. Nothing ever is. It adds a modern edge to a website however some websites may opt for a more traditional look. In such cases the hamburger menu is no longer a useful tool, but a professional web designer can accommodate classic looks. Our web design Port Washington NY services are definitely a perfect fit for small businesses looking for modern or traditional websites. And if you are a more traditional company looking to update, there may just be a modern menu for you… and it has nothing to do with food.
Mega menus
Mega menus rightfully sound like the super heroes of web design. Where a hamburger might not suit or work, there's a good chance a mega menu can step in to save the day. Mega menus expand to display a broad depth of a website's pages in one 'panel' list, and on one screen. This works particularly well on larger websites, such as e-commerce sites, which use a lot of granular menus. It saves the user having to explore individual menus like with traditional navigation menus. This ultimately leads to more engaged users and increased likelihood of return visitors.
"Will an updated menu help my SEO marketing efforts?"
…we hear you ask. Like all web design it is only as powerful as the content that is hung from the framework. Don't forget the basics:
Accurate, descriptive page titles will make sure your website is not penalized by search engines in terms of SEO. It will also make your website menus easier to navigate.
Similarly, utilize meta description tags. They may not make a huge difference to your ranking on a search engine results page, but they will increase the likelihood of a user clicking through to your site. It will likely appear as the 'snippet' of information in your entry on the results pages, so make it count! For more help or information on anything you have read above, please give us a call. And if you go the route that most of us do – searching for SEO company Port Washington NY, make sure to look for us! We're here to help.